How To Cook Authentic Nigerian Red Stew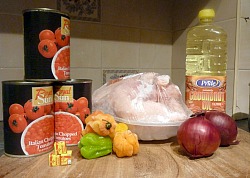 The Nigerian stew is a special type of stew prepared and eaten all over that country.It is a unique blend of tomato, onion, fresh red hot pepper, fried in vegetable oil and to which meat, or fish or a combination of both is added, with some seasonings. It is often called Nigerian tomato stew or Nigerian red stew to reflect the ingredient or the look of the stew.
It leaves a red, excitingly spicy stew that can be served with boiled white rice, or boiled yam or boiled plantain. It can also be served with grated fresh cooked okra and eaten with pounded yam or
eba
. Hm mm.
Nigerian stew comes in the following forms:
Nigerian beef stew
Nigerian fish stew
Nigerian goat stew
Nigerian chicken stew or
Nigerian spinach stew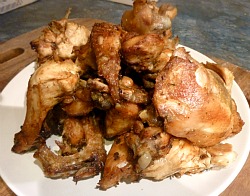 depending on what type of meat, fish or vegetable is used in making it.
Sometimes, other Nigerian soups are referred to as stew, like banga soup (palm nut fruit soup, popularly called "ofe akwu" by the Ibgos), and even egusi soup as well. But in the strict sense of the word in Nigerian parlance, these are soups and not stew - to the English man, (or woman), they will qualify to be described as stew though, like all other African soups.
We shall now proceed to describe the authentic Nigerian stew recipe.
Nigerian Stew Recipe: The Ingredients
Tomatoes...........3 Medium Cans of (Italian) Chopped or 800g of fresh red tomatoes
Fresh pepper.........2 to 3 balls
Red Onions...........2 medium sized onion
Red hot dried pepper (ground) - 1 to 2 teaspoonful
Derica tomato paste - 70g (1 small can)
Pure Groundnut or vegetable oil (olive oil can also be used instead)......250mls
Beef or chicken or goat meat .........1kg
Maggi cubes(seasoning)........2 to 3 cubes
Dried Curry Powder..........1 to 2 tablespoonful
Dried thyme leaf (ground)
Spinach (optional)..........2 cups full
Preparation Time:
90 Minutes.
Serving:
6 to 8.
Nigerian Stew Recipe: The Cooking Method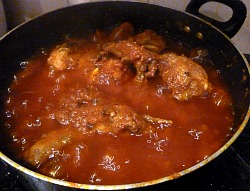 Prepare the chicken or meat first. Then, the tomato and pepper sauce.
Clean and cut your meat (chicken, beef or goat, or a combination of all three, or with fresh fish, into about 3 to 7cm chunks as you usually would.

Place cut meat or fish in a pot. Spice up by adding one to two teaspoonful of curry powder, dried thyme leave (ground) a few slices of garlic (optional), half a bulb or full bulb of onion cut into bits, and a teaspoonful of salt. Crush your maggi cubes (1 to 2) between your fingers into the meat too. Add about half cup of water. You may also add bay leaves.

Bring spiced meat to boil. Leave to simmer for 15 to 20 minutes, or until water is taken up and almost dried (leaving some broth).

While waiting for meat to cook, introduce the tomato, fresh pepper, onion (the second full bulb, sliced), into a blender, and blend into a paste.

Once meat is cooked and tender, remove from cooking put, and leave the broth behind (for later use).

You may decide to grill the cooked meat or fry it at this point. If you chose to fry it, place a dry clean saucepan on fire. Add about 200mls of vegetable or groundnut oil (or olive oil). Leave oil to get hot for about 3 to 5 minutes. Now add your meat and allow to fry until it turns crispy and beautifully golden.

It is now time to fry the tomato, pepper and onion paste. Place dry clean sauce pan onto the cooking hob or fire. Allow to get hot. Add the oil used in frying the meat or fish into the sauce pan, and top it up with the balance 50mls of oil. Bring to a hot temperature.

Add slices of onion into oil, and allow onion to fry for about 3 minutes. Now add the tomato, pepper and onion paste. Bring to boil for about 10 minute. Reduce the heat to medium heat, and cook until the paste boils, and shows a upper layer of oil. At this point, it starts to fry. Stir occasionally to prevent it getting burnt under.
It is important to get this stage right, if your Nigerian stew will come out really nice. Let the stew fry until only clear oil is seen on the top of the now brownish red sauce.

Finally, add your derica tomato paste into the already fried sauce while still in medium heat, also add your fried or grilled meat or fish, and add your seasoning cube (second one) and some sprinkling of salt - 1/4 teaspoonful.

Allow to simmer in low heat for about five minutes, and yup! your red Nigerian stew is ready for serving.
Obviously, there will be variations to this recipe, but what is described here incorporates the principle of how to cook Nigerian tomato stew.
Remember to use Nonstick Cookware
when cooking this recipe. It reduces the chances of your cooking getting burnt.
Do you have another method of cooking this recipe? Share your idea below.
Nigerian Stew Ideas, Questions & Comments: Have Your Say.
Do you have a great and original Nigerian stew recipe idea? Have a question on how to prepare this delicious stew, or where to get ingredients, or just want to leave a view or comment? Share it here!